What are Garden Doors?
Garden doors are a wonderful way to express your love for the outdoors. Increase the space in your home by exploring various garden door options like aluminium bi-fold doors, aluminium sliding doors, uPVC French doors, uPVC patio doors and uPVC stable doors.
At Warwick Glass, we provide a selection of garden doors to ensure that you are getting the most out of your home, throughout the entire and through the everchanging seasons. Discover what makes our doors so special by reading more below or getting in contact with our incredible team.
Aluminium Bi-Fold Doors
As an elegant and wonderful creator of space, aluminium bi-fold doors connect you to the outside world like no other. With ultimate precision, engineering and high performing components, homeowners can get the very best garden door with unrivalled quality. A gentle push is all it takes to bring the outside into your home, opening your living space with each lightweight frame working on a unique free gliding roller carriage. With finger safe gaskets, you can bring a safe, durable and intelligent design into your home without compromising aesthetics. Whatever the weather, the durable powder coating on these garden doors prevents any flaking or peeling. Aluminium bi-fold doors provide all homeowners with a strong and smooth operation to enjoy your garden.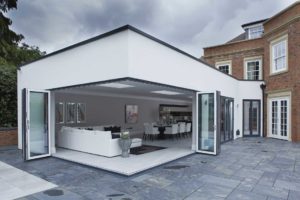 Aluminium Sliding Doors
With stunning aluminium frames, all homeowners have the creative freedom to style their new garden doors however they like. With over an incredible 150 RAL colours to choose from, your aluminium sliding door can complement your interior without compromising on design. Additionally, there are dual colour options too to match shades perfectly to your current architecture! Warwick Glass can tailor your garden doors to blend in with your aesthetic and preferences for a bespoke home improvement solution. You can also choose your glazing. Whether looking for a laminated, toughened or reflective look, you will always receive a thermally efficient, durable and secure garden door for you and your loved ones.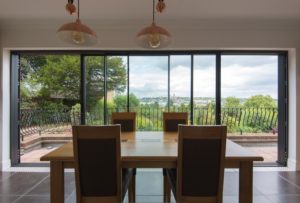 uPVC French Doors
Are you looking for quick and easy access to the outdoors? At Warwick Glass, we offer French garden doors, ideal for adding a sense of style and versatility to your home. With configuration options to open inwards or outwards, your uPVC French doors will keep your home safe due to its high-quality multipoint locking systems that engage at multiple frame points. Our experts can work to integrate these locks to ensure that they cannot be used as a leverage point – giving you and your family protection against potential break-ins and other threats. Additionally, all the uPVC French garden doors that we offer are manufactured using a uPVC profile that is 100% recyclable! We provide sustainable garden doors that never lose their quality or structural integrity once recycled. Do your part to save the planet with Warwick Glass.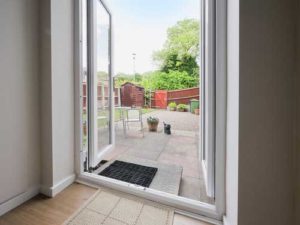 uPVC Patio Doors
Approved by the British Board of Agrément (BBA) and inspected by one of the UK's leading governing bodies for quality assurance, our patio garden doors are certainly a worthwhile investment for your home. With made to measure options, our uPVC patio doors come in two, three, or four panes depending on the opening space. We can also fit extra windows on either side, creating a wonderful panorama of your garden to enjoy the seasons all year round. With an easy gliding action and incredible thermal qualities, our modern patio doors minimise draughts, keeping you cooler in the summer and warmer in the winter. If that wasn't enough, our patio garden doors have a 6 point locking system, interior glazing and reinforcement control, making your home completely secure.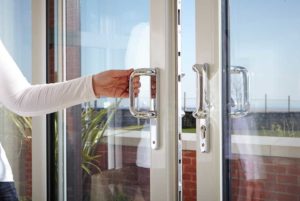 uPVC Stable Doors
As a classic door option with a dual sash design, you can operate the top and bottom of your stable door separately. Stable doors are a fantastic solution for controlling your ventilation and home security without compromising the protection of you and your loved ones. With multi-functional abilities, your home is sure to increase comfort and practicality. As a stylish way to view your garden, stable garden doors are manufactured using a recyclable profile that can use them repeatedly to ensure that their quality is never lost. Our installers perform to the highest standard, tailoring your designs to your needs and requirements. With various door handles and frame colours, you really can have the garden door of your dreams.
To get your FREE garden door quote, get in touch with us via our online contact form and speak to a friendly member of our team. We are more than happy to answer any questions or queries you may have. We look forward to hearing from you soon!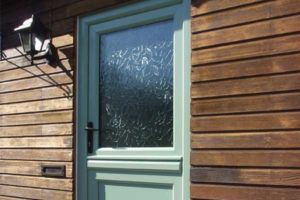 Categories: Uncategorised
Tags: warwick double glazing, which trusted traders double glazing installer, window glass repair